-Bursary Program Added and Major Tournament Sponsorship for 2019 Continued-
North York, ON – (February 7, 2019) – The Canadian Junior Golf Association (CJGA) is pleased to announce the continuation and expansion of their partnership with Humber College Professional Golf Management Program.  The expansion of the relationship will see the inclusion of a major bursary program that will benefit CJGA members.
This new program will encourage CJGA graduates to stay in Canada for their post-secondary endeavours by offering up to $56,000 in bursaries to CJGA members towards the Humber College Business Administration – Professional Golf Management Program.
A total of 56 CJGA Junior Tour members will qualify for a $1,000 Humber College PGM Program Bursary through a random draw.  Players who are CJGA members and enroll in the Humber College PGM Program within two years will be eligible to receive the bursary.
Additionally, the Professional Golf Management Program will continue as a major event partner of four large events on the CJGA national schedule.  In 2019, the events will include:
The following are the date and locations of the 2019 events:
Event: Humber College PGM Western Canadian Junior Championship, presented by TaylorMade
Golf Course: Northview Golf & Country Club, Surrey, B.C.
Date: March 27-29, 2019
Event: CJGA Quebec Junior Open, presented by Humber College PGM
Golf Course: Hawkesbury Golf & Curling Club, Hawkesbury, Ontario
Date: May 4-5, 2019
Event: Humber College PGM Junior Open, presented by GOLFTEC
Golf Course: Greyhawk Golf Club, Dunrobin, Ontario
Date: May 11-12, 2019
Event: Humber College PGM Ontario Junior Open at TPC Toronto
Golf Course: TPC Toronto at Osprey Valley, Caledon, Ontario
Date: June 1-2, 2019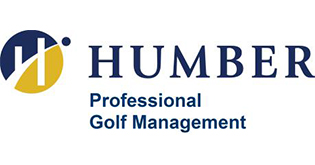 About Humber College
Humber's Business Administration – Professional Golf Management program is recognized as Canada's premiere golf business program.  We provide you with the business knowledge and skills you need to start a career in many areas of business and the specialized expertise required of a PGA of Canada Golf Professional. Our 3-year business diploma runs annually on a 6-month in-class/6-month paid work placement basis. Our on-campus Golf Lab is an industry leading golf performance training facility run by PGA Professionals. Our students have the opportunity to play on the Humber Hawks varsity golf team, the most decorated golf team in Canada. Pathways to Humber's Bachelor of Commerce Degrees and other degree programs are also available. For more information please visit our website at business.humber.ca/golf.
About the CJGA
The Canadian Junior Golf Association (CJGA) is a "registered Canadian amateur athletic association" (RCAAA) non-for-profit registered federally with Revenue Canada. The CJGA is dedicated to providing Canada's junior golfers with the necessary skills and knowledge required to lay a foundation for a future in competitive golf.
Through its six-stage competitive development program that focuses on tournaments, clinics, international competitions, and mentoring programs with PGA Tour professionals, the CJGA introduces the game to juniors as young as five and offers competitive multi-day events for the more advanced golfer. The CJGA acts as a feeder system to provincial and national competitions, collegiate and university golf, as well as professional and recreational golf. For more information, please visit www.cjga.com.
The Canadian Junior Golf Association is generously supported by its National Partner, Freedom 55 Financial, which provides financial security advice and planning for Canadians.
For more information please contact:
Brad Parkins
Chief Operations Officer
Canadian Junior Golf Association
1-877-508-1069 x2002
brad.parkins@cjga.com