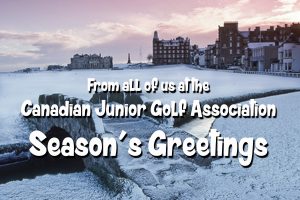 Thank you for being a part of the CJGA family.  It is with your support that we continue to be the leaders in junior golf in this country and can continue to provide the greatest opportunity to the most kids across the country.
The CJGA Head Office will be closed Friday December 24, 2016 at 1:00pm though to Friday December 30, 2016. The office will reopen Monday January 2, 2017 at 9:00am EST.
Should you have any inquires during this time, please e-mail info@cjga.com.
Membership and tournament registration will open on January 2.  Registration will be available online at www.cjga.com.
We look forward to seeing you all in 2017!
Regards,
CJGA Staff