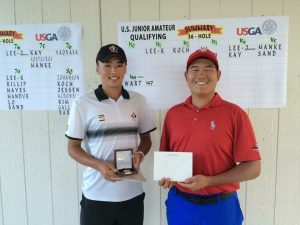 AJ Ewart and Khan Lee, CJGA Members, advance to USGA Championship
Richmond Hill, Ont. (June 23, 2016) – Since 1993, the Canadian Junior Golf Association has played a tremendous part in the development of Junior Golf in Canada. Many of the CJGA Alumni are now playing on Professional tournaments throughout the world. Brooke Henderson for example, a CJGA Alumnus, Canada's latest sensation, is now one of the best players in the World.
CJGA Members continuing to amaze today.
The USGA Junior Amateur Championship, being one of the most prestigious tournaments for junior golfers throughout the world, held its qualifiers in many states throughout the USA. CJGA members performed well in the qualifying rounds advancing to the Final to be held at the Honors Course in Ooltewah, Tennessee, July 18-23.
The CJGA would like to wish all congratulations and much success in the upcoming event.
The following is a list of all CJGA Members that have qualified and their results over 2 rounds.
Qualifying sites and Results
Spanaway, Washington – RMG Club at the Classic
A.J. Ewart, Coquitlam, British Columbia- 147
Khan Lee, Surrey, British Columbia- 151
Baldwinsville, NY – Timber Banks Golf Club
Jake Bryson, Dunobin, Ontario – 150
Luke Gavin, Peterborough, Ontario – 151
Meridian, Idaho – The Club at Sparwig
Bradley McKeating – Calgary, Alberta – 146
Auburn Hills, Michigan – Fieldstone Golf Club
Johnny Travale, Stoney Creek, Ontario – 140
Zack Mason, Toronto, Ontario – 142
Fargo, ND – Fargo Country Club
Marco Trstenjak, Winnipeg, Manitoba – 150
Wyoming, Michigan – Kaufman Golf Course
Angelo Giantsopoulos, Richmond Hill, Ontario