-Strong field will tee it up for chance at coveted national exemptions-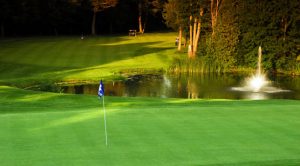 Stouffville, ON (May 2, 2015)
– A strong field of junior golfers are set tee off this weekend in the Canadian Junior Golf Association (CJGA) Ontario Junior Series at Emerald Hills Golf Club in Stouffville, Ont. This being the 3
rd
Ontario event on the schedule, the juniors will look to take home exemptions into the CJGA PING Canadian Junior Match Play Championship and the CJGA Mizuno National Junior Golf Championship.
One of the original four founding courses of ClubLink when the company began in 1993, Emeralds Hills Golf Club is leafy sanctuary of golf in one of the most revered natural areas around Greater Toronto. Originally opened in 1982, the course takes maximum advantage of the ruggedly gorgeous Oak Ridges Moraine.
Talk about an architectural one-two punch: the late Rene Muylaert designed the original 18 holes which were so well respected that they played host to the Nations Cup in 1999 and 2000 in which LPGA players representing Canada and the U.S. played each other in a Ryder Cup-style team competition.
The strong fields of juniors are sure to provide excitement during this one day of competition. Some players to keep an eye on this weekend are:
Boys 15 -19
Mackenzie Crawford, Utopia, Ont.
Akrish Abbas, Oakville, Ont.
Girls 15 – 19
Annabel Ngo, Toronto, Ont.
Natasha Stasiuk, Oakville, Ont.
Girls 14 & Under
Mackenzie Morrison, Etobicoke, Ont.
Xintong (Victoria) Li, Toronto, Ont.
Boys 14 & Under
Eli Matthew, Waterloo, Ont.
Peter Blazevic, Burlington, Ont.
Schedule of Events:
May 2 – First Round – 12:00pm – 1:57pm (first tee)
Awards Ceremony – 7:00pm
Tournament Information: CJGA Ontario Junior Series at Emerald Hills
Canadian Junior Golf Association
The Canadian Junior Golf Association (CJGA) is a "registered Canadian amateur athletic association" (RCAAA) not-for-profit registered federally with Revenue Canada. The CJGA is dedicated to providing Canada's junior golfers with the necessary skills and knowledge required to lay a foundation for a future in competitive golf.
Through its six-stage competitive development program that focuses on tournaments, clinics, international competitions, and mentoring programs with PGA Tour professionals, the CJGA introduces the game to juniors as young as five and offers competitive multi-day events for the more advanced golfer. The CJGA acts as a feeder system to provincial and national competitions, collegiate and university golf, as well as professional and recreational golf. For more information please visit www.cjga.com.
The Canadian Junior Golf Association is generously supported by its National Partner, Freedom 55 Financial, which provides financial security advice and planning for Canadians.
For Additional Information:
Jay De Gennaro
Tournament Coordinator
Canadian Junior Golf Association
Jay.degennaro@cjga.com