-36-hole event shortened to 18 after Mother Nature take over-
Vancouver, B.C. (March 31, 2015) Rain cancelled the final round of the Canadian Junior Golf Association (CJGA) B.C. Junior Open University Golf Club on the weekend. Fortunately the weather did not dampen the spirits of the juniors playing in the event, a qualifying tournament for the IMG Academy Junior World Championships slated for July 14-17 in San Diego, CA.
"It rained most of the first round and didn't stop all night," said CJGA B.C. Tournament Director Brad Ewart. "None of the players wanted to stop on Sunday. We had half the field on the course but with the rain not letting up the course became unplayable and we could not continue."
Through all the water, division champions were still crowned in four different age categories
Boys 14 Under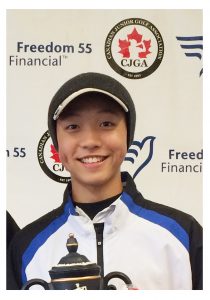 Henry Lei, 14, from Surrey fired a round of 69 (-3) in the first round to capture his second CJGA division title of the season. His nearest competitor was 14-year old Daniel Sun after he shot an opening round 75 (+3) and Sean Buckles of North Vancouver shot a round of 76 (+4). Lei carded five birdies and two bogeys in his round to take the division by six strokes.
Girls 14 under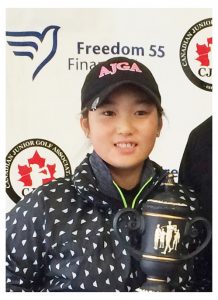 Twelve year-old Coquitlam native Euna Han captured her second division title in three events after shooting and opening round 70 (-2). Han posted six birdies on her card along with two bogeys and one double bogey. Susan Xiao of Surrey was just three shots off the pace shooting a round of 73 (+1). Victoria Lui and Karen Zhang shot round of 77 (+5) to finish in a tie for third in the division.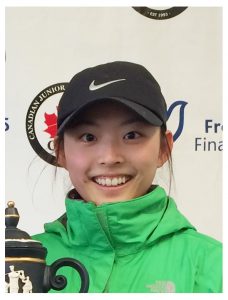 Girls 15 – 19
Port Moody resident Avril Li carded a two-under par 70 to win the Girls 15-19 division. The 17 year-old carded four birdies and four bogeys to finish one stroke ahead of Hannah Lee. Lee finished the first round with a score of 73 (+1) that saw her post three consecutive birdies on holes 3, 4, and 5. Mary Parsons finished another stroke back after shooting a round of 74 (+2).
Boys 15 – 19
There was a crowded leader board in the Boys 15-19 division with nine players within three strokes of the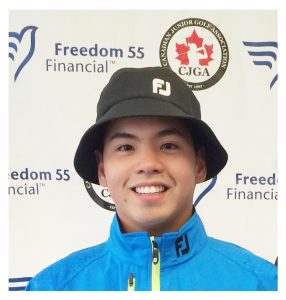 lead. With the weather shortened tournament it was Diego San Pedro of Richmond who ultimately captured the division title after firing and opening round 70 (-2). San Pedro went out in two-under par and came in with an even par back nine. Jae Wook Lee was tied with San Pedro after firing his own opening round 70 (-2), eventually finishing runner-up. A.J. Ewart and Roy Kang finish another stroke back after round of 71 (-1). Ewart now has two runner-up finishes and a third place finish this season.
Tournament Information: CJGA B.C. Junior Open
Canadian Junior Golf Association
The Canadian Junior Golf Association (CJGA) is a "registered Canadian amateur athletic association" (RCAAA) not-for-profit registered federally with Revenue Canada. The CJGA is dedicated to providing Canada's junior golfers with the necessary skills and knowledge required to lay a foundation for a future in competitive golf.
Through its six-stage competitive development program that focuses on tournaments, clinics, international competitions, and mentoring programs with PGA Tour professionals, the CJGA introduces the game to juniors as young as five and offers competitive multi-day events for the more advanced golfer. The CJGA acts as a feeder system to provincial and national competitions, collegiate and university golf, as well as professional and recreational golf. For more information please visit www.cjga.com.
The Canadian Junior Golf Association is generously supported by its National Partner, Freedom 55 Financial, which provides financial security advice and planning for Canadians.
For Additional Information:
Brad Ewart
BC Tournament Director
Canadian Junior Golf Association
brad.ewart@cjga.com