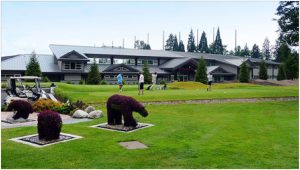 Burnaby, B.C. (February 20, 2015) – While most of Canada is in a deep winter freeze and covered in a blanket of snow, junior golfers in British Columbia are readying themselves for tournament play. This weekend the CJGA will begin its 23rd season in the western province as Burnaby Mountain Golf Course will host the juniors participating in the CJGA Pre Season Opener.
Burnaby Mountain Golf Course, situated in the greater Vancouver area of north Burnaby, has been rated by Golf Digest as "One of the Best Places to Play" in North America. This popular golf course boasts 5,800 – 6,400 yards of natural tree-lined beauty and gentle rolling terrain which offers a blend of charm, character and serenity. It requires precise shot-making to achieve par but recreational players find it very forgiving.
The forecast for the weekend currently shows favorable weather conditions and the golf course will be in good shape with full, fresh cut fairways and greens. The field of juniors should be in a position to attack the golf course and put forward some great rounds to kick off their 2015 competitive season.
Some juniors to keep an eye on this weekend are Tiffany Kong (14), Sharon Park (16), AJ Ewart (15), and Nathan Bahnman (17).
Schedule of Events:
February 21 – First Round – 11:00am – 12:20pm
February 22 – Final Round – 11:00am – 12:20pm
Awards Ceremony – 5:30pm
Junior golfers in British Columbia will have a number of competitive opportunities over the course of the season through the 14 event CJGA schedule in the province this season. Juniors will have the opportunity to qualify for national and international competitions through local qualifiers while also playing for valuable order of merit points with CJGA, British Columbia Golf, and Golf Canada. The top CJGA Order of Merit winners will have the opportunity to represent CJGA and Canada at the Curacao Masters Pro-Am in Curacao in April 2016.
Canadian Junior Golf Association
The Canadian Junior Golf Association (CJGA) is a "registered Canadian amateur athletic association" (RCAAA) not-for-profit registered federally with Revenue Canada. The CJGA is dedicated to providing Canada's junior golfers with the necessary skills and knowledge required to lay a foundation for a future in competitive golf.
Through its six-stage competitive development program that focuses on tournaments, clinics, international competitions, and mentoring programs with PGA Tour professionals, the CJGA introduces the game to juniors as young as five and offers competitive multi-day events for the more advanced golfer. The CJGA acts as a feeder system to provincial and national competitions, collegiate and university golf, as well as professional and recreational golf. For more information please visit www.cjga.com.
The Canadian Junior Golf Association is generously supported by its National Partner, Freedom 55 Financial, which provides financial security advice and planning for Canadians.

For Additional Information:
Brad Ewart
BC Tournament Director
Canadian Junior Golf Association
brad.ewart@cjga.com