Wind And Rain Wreaked Havoc at CJGA Junior at Cordova Bay
Victoria, B.C. (March 14, 2016) – Gale force winds and rain wreaked havoc on the final round of the CJGA Junior at Cordova Bay in Victoria, BC this past weekend. A field which included both of Golf Canada's Development Teams battled a strong contingent of Vancouver Island golfers. But the day belonged to eleven-year-old and local favourite, Jeevan Sihota, who claimed his first career CJGA division title shooting a remarkable two over par for two days.
Junior Boys U19
Quebec's Charles Eric Belanger showed why he finished the top-ranked junior golfer in 2015 by starting his season with a win in the Junior Boys U19 division. Belanger battled the elements blowing over the 6,500 yard Cordova Bay Golf Course and a determined field of competitors recording identical rounds of 73-73-146. "It was an up-and-down day. It was tough. The putting was hard with so much wind, I had two three putts and four putt from 15 feet" said Belanger, member of the National Junior Development squad. "This is a good start to the season for me. Now we have training camp at Bear Mountain for a couple of days and then over to the next tournament in Surrey."
Thomas "Jack" Simpson from Aurora, Ontario, another member of Team Canada, finished second shooting 71-76-147 edging Victoria's Josh Miller by one after rounds of 71-77-148.
Junior Girls U19
2015 CJGA Mizuno National Championship champion, Grace St. Germain finished first in the Junior Girls U19 division shooting 76-80-156. "It was tough, I felt like I was fighting the weather all day. There were times when the wind was trying to knock me over" explained Orleans, ON golfer St. Germain. "My ball striking was really good. My putting the first day was much better than it has been. This is good preparation for the season. There are lots of tournaments ahead and very pleased with my result. This tournament gives me a lot of confidence. I feel like I got some of the rust off and now let's see what I can do."
Bowser, B.C.'s Megan Ratcliffe improved by eight strokes over her opening round by adding a solid score of 76 for a tournament total of 160. Courtenay, BC golfer Abigail Rigsby finished third carding 79-83-162.
Juvenile Boys U17
Callum Davison from Duncan, B.C. showed his mettle as one of the top young players in B.C. winning the Juvenile Boys U17 division with solid rounds of 70-76-146. Alberta golfer Carson Graf left his snowed under home course in Red Deer behind and played his first two rounds of the season carding 79-80-159 to finish in a tie for second place with Surrey's Henry Lei who shot 76-83-159.
Juvenile Girls U17
Hannah Lee played her first tournament of 2016 in Lima, Peru as a member of Team Canada's Junior Development team. Two months later Lee played her second tournament of the season on Victoria and quickly made that a top finish winning the Juvenile Girls U17 title with two solid rounds of 75-76-151. "I tried to stay consistent throughout the round," said Lee. "I knew it wasn't going to be easy but I was prepared. Our coaches got us ready. I played pretty good and had to hit more punch shots into the greens. I've learned a lot this fall with team Canada I have confidence in my game coming back from Peru. I am excited to play my home course (Northview GC) next week."
Golf Canada teammates Chloe Currie from Mississauga, Ontario was alone in second place carding 77-80-157. Golf Canada teammates Tiffany Kong (81-77-158) from Vancouver and Richmond's Katherine Chan (78-80) finished tied third.
Bantam Boys U15
Victoria's Jeevan Sihota has been adding trophies to his collection since winning a Junior World title at the age of six. Two years later when he was eight, Sihota claimed the US Kids title. This past weekend, at the age of 11, Sihota added the CJGA Junior at Cordova Bay title to his ever growing collection. "I messed up a couple of times. I lost a ball on one hole and on number 11 hit another in the water. Other than that, my game was fine" explained Sihota. Using local knowledge to his advantage Sihota toured the par-71, 5,600 yard Cordova Bay layout in rounds of 70 and 74 for a 144 total. "The weather was brutal! I think I judged the wind pretty good though"
Finishing second was Victoria's Anthony Kondrak after rounds of 80-87-167.
Bantam Girls U15
Thirteen-year-old Victoria golfer Akari Hayashi earned her top-finish in the Bantam Girls U15 division with scores of 80-77-157. Calgary's Annabelle Ackroyd finished second shooting 86-91-177. "I had a lot of up-and-downs today," said the Grade eight golfer Akari Hayashi. "I had a miracle shot today on number seven where I hit my second shot into the hazard. It was right on the edge and I had to stand with some of my shoe in the water. It was hard but I punched it out to about six feet and made the putt. I got a birdie on that hole."
The CJGA Junior Tour will now head back to the mainland for the first major of the year, the CJGA Western Junior Championship presented by Tour Performance LAB at Northview Golf Club in Surrey, B.C. from March 17-19.
About Canadian Junior Golf Association
T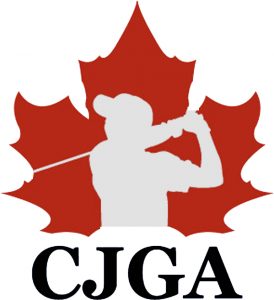 he Canadian Junior Golf Association (CJGA) is a "registered Canadian amateur athletic association" (RCAAA) not-for-profit registered federally with Revenue Canada. The CJGA is dedicated to providing Canada's junior golfers with the necessary skills and knowledge required to lay a foundation for a future in competitive golf.
Through its six-stage competitive development program that focuses on tournaments, clinics, international competitions, and mentoring programs with PGA Tour professionals, the CJGA introduces the game to juniors as young as five and offers competitive multi-day events for the more advanced golfer. The CJGA acts as a feeder system to provincial and national competitions, collegiate and university golf, as well as professional and recreational golf. For more information, please visit www.cjga.com
The Canadian Junior Golf Association is generously supported by its National Partner, Freedom 55 Financial, which provides financial security advice and planning for Canadians.
For Additional Information:
Brad Ewart
BC Tournament Director
Canadian Junior Golf Association
brad.ewart@cjga.com