Thomas Giroux Earns First CJGA Career Win at the Nike Golf Junior Series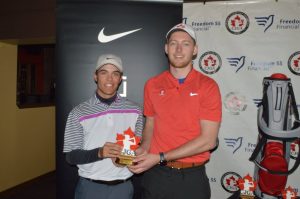 Fenwick, Ont. (April 26, 2016) – Junior golfers across Ontario and Quebec battled cold winds this past weekend at the Nike Golf Junior Series at Peninsula Lake Golf Club in Fenwick, Ont. Players showed their best in hopes of earning exemptions to one of the top events in Canada, the Nike Golf Junior Championship.
This winners-only event brings together the division winners from the 8 event Nike Golf Junior Series from across Canada to compete in the 9th final championship event. This year, the event will be held in Ontario later in the season.
Junior Boys (U19)
Thomas Giroux, 17, of Georgetown Ont., and a CJGA member for two years, took home the division title for Junior Boys, claiming his first CJGA career win. Giroux carded 72 in round one and 71 in round two for a two round total of 143. While tightening up his game after round one, Giroux stayed ahead of the competition.
"I played good and wouldn't make any changes to my game," said Giroux. "It was the right way to start the season and I am looking forward to the Nike Golf Junior Championships."
Following in the runner up position was Ethan Bennett, 16, of Stoney Creek Ont. Bennett finished round two with four birdies showing scores of 79 (+8) in round one and 70 (-1) in round two ending the weekend with a score of 149.
Junior Girls (U19)
Emily Romancew, 14, of Pierrefonds, QC., claimed the Junior Girls division title with rounds of 80 (+7), 76 (+3) ending with a tournament score of 156. Romancew entered the game ready to have fun but kept her focus on the game.
"I played well, but I would have liked to prepare better for the start of the rounds," explains Romancew. "It feels good to win"
Bantam Girls  (U15)
Jue Wen, 14, from North York, Ont., took the winning position after a close round with Yasmine Daoud. The two girls settled their battle on the second playoff hole when Wen hit a 30-yard bunker shot. Wen carded scores of 86, 88 with a two-day total of 174. Wen recovered well from missing greens in both rounds.
"I didn't play my best but I did a good job battling through," said Wen. "I am ready to take on the next CJGA event."
Daoud, 13, from Pierrefonds, QC., posted rounds of 89, 85 for a two round total of 174.
Bantam Boys (U15)
Jeffrey Fang, 13, from Newmarket Ont., had a strong second day, allowing him to take the winning position for the Bantam Boys division. He carded 84 in round one and 76 in round two for a two-day total of 160. When asked what strengths contributed to his win, "I drove the ball well and made a lot of putts from inside six feet," said Fang. "But it was a challenging course with the 10th hole having tricky pin locations."
Two strokes behind Fang was Vick Gu, 13, and Carlito Reyes,14, both from Markham, Ont., with two day totals of 162.
Juvenile Boys (U17)
Taking home the Juvenile Boys division title was Peter MacDonald, 15, from Mississauga, Ont., who fired rounds of 74 (+3), 80 (+9) for a tournament total of 154. MacDonald had a strong first day with consistent putting in both rounds.
"This was a great start to the season," said MacDonald. "The course was great and the guys were fun to play with."
Cam Kellett, 16, from London Ont., ended the weekend in the runner up position with scores of 81, 79 with a two-day total of 160.
The CJGA Junior Tour will be visiting Rolling Hills Golf Club on April 30 to May 1. Here, golfers will play to qualify for the North America Cup.
About Nike Golf Canada

Based in Thornhill, Ontario, Nike Golf Canada markets, sells and distributes industry leading Nike Golf equipment, apparel, balls, footwear, bags and accessories throughout Canada. Nike Golf is passionately dedicated to honoring and respecting the traditions and heritage of the game, and to providing committed golfers with the best equipment in the game. For more information on Nike Golf Canada, visit www.nikegolf.ca.
To follow Nike Golf on Twitter visit www.twitter.com/nikegolf and to become a fan on Facebook go to www.facebook.com/nikegolf. Journalists seeking editorial information and images, visit www.nikegolf.com/presscenter.
About Canadian Junior Golf Association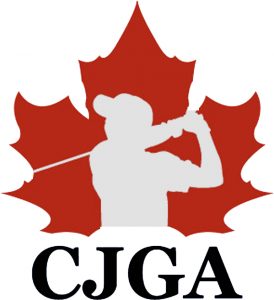 The Canadian Junior Golf Association (CJGA) is a "registered Canadian amateur athletic association" (RCAAA) not-for-profit registered federally with Revenue Canada. The CJGA is dedicated to providing Canada's junior golfers with the necessary skills and knowledge required to lay a foundation for a future in competitive golf.
Through its six-stage competitive development program that focuses on tournaments, clinics, international competitions, and mentoring programs with PGA Tour professionals, the CJGA introduces the game to juniors as young as five and offers competitive multi-day events for the more advanced golfer. The CJGA acts as a feeder system to provincial and national competitions, collegiate and university golf, as well as professional and recreational golf.
For more information, please visit www.cjga.com
Its National Partner, Freedom 55 Financial, which provides financial security advice and planning for Canadians, generously supports the Canadian Junior Golf Association.
For Additional Information:
Jordyn Battista
CJGA Communications Assistant
1.877.508.1069
jordyn.battista@cjga.com