Taylor and Shah Win Division Titles at the Dustin Johnson World Junior Golf Championship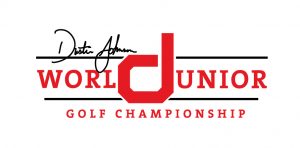 Callens Finishes as the Top Canadian
Myrtle Beach, SC (February 15, 2016) – The final round of the Dustin Johnson World Junior Golf Championship took place today at TPC Myrtle Beach in Murrells Inlet, South Carolina. Blake Taylor of Atkinson, NC went wire to wire to win the boys division with a tournament total of 218 (+2). Delaney Shah of North Potomac, MD climbed five positions to claim the girl's division with a tournament score of 232 (+16).
After two days of subzero temperatures players battle rain during their final 18 holes today. Despite the adverse playing conditions, CJGA' s 3 national champions from last year finished in the top half of the field. Canada's top junior golfer was Peyton Callens of Langton, Ontario. With scores of 77, 74 and 82 for a total of 233 (+17), Callens finished the event tied for 14th.
Finishing in a tie for 21st was Ty Celone of Long Sault, Ont. with scores of 77, 78 and 81 for a tournament total of 236 (+20). Celone's final round score was the lowest of the Canadian players on a day that saw only one player under par. Max Sekulic of Rycroft, Alta. also finished in the top half of the field in a tie for 28th with scores of 76, 83 and 82 for a tournament total of 241 (+25).
Two additional CJGA members in the field competing were Brendan Seys of Port Lambton, Ont. who finished tied for 45th and Jake Bryson of Dunrobin, Ont. who finished in 49th place.
The Canadian players will now return home gaining a valuable international experience. "The players represented Canada and themselves in a first-class manner" said John Lawrence, CJGA Managing Director of Tour Operations. "I'm sure their final placings isn't what they had in mind when we first arrived, but I am very proud of the effort our players displayed on and off the course."
About the Dustin Johnson World Junior Golf Championship
The inaugural Dustin Johnson World Junior Golf Championship will tee off with the goal of attracting an international field comprised of some of the game's best junior golfers. The invitational event for Boys and Girls 13-18 will feature 90 players from around the world and will be played at TPC Myrtle Beach February 13-15.
With the support of Johnson, one of top 10 players in the world, the tournament will provide participants a PGA Tour-like experience, and the chance to test themselves against premier players from across the globe.
TPC Myrtle Beach, which was home to the Senior PGA Tour Championship, was built with the idea of hosting Tour-level events, and Dustin Johnson World Junior Championship participants will be the beneficiaries. From names on their lockers to placards on the range and live scoring throughout the property, the tournament will provide players an experience similar to what DJ enjoys on Tour.
Canadian Junior Golf Association
The Canadian Junior Golf Association (CJGA) is a "registered Canadian amateur athletic association" (RCAAA) not-for-profit registered federally with Revenue Canada. The CJGA is dedicated to providing Canada's junior golfers with the necessary skills and knowledge required to lay a foundation for a future in competitive golf.
Through its six-stage competitive development program that focuses on tournaments, clinics, international competitions, and mentoring programs with PGA Tour professionals, the CJGA introduces the game to juniors as young as five and offers competitive multi-day events for the more advanced golfer. The CJGA acts as a feeder system to provincial and national competitions, collegiate and university golf, as well as professional and recreational golf. For more information, please visit www.cjga.com.

The Canadian Junior Golf Association is generously supported by its National Partner, Freedom 55 Financial, which provides financial security advice and planning for Canadians.
For Additional Information:
John Lawrence
Managing Director of Tour Operations
Canadian Junior Golf Association
1-877-508-1069 x227
john.lawrence@cjga.com