Portokalis Repeats at Greenhills while Juniors and Linksters Battle Strong Winds
-3 juniors have earned spots in the AJGA/CJGA Junior Championship-
Final Tournament Results Junior Series
Final Tournament Results Linksters Series
Richmond Hill, ON (June 8, 2015) It was a busy weekend in the CJGA, with both juniors and linksters both teeing off at Greenhills Golf Club. With nine divisions playing, lots of action to talk about. Beni Long, Isabella Porkalis, David Yoon, Jasmine Ly, Thomas Latter, Andre Zhu, Alexis McMurray, Cadance Beuckelare and Finn Foster all win divisions.
Girls 9 & Under
Cadance Beuckelare of Chatham, Ontario shot a 48(+13) this weekend to take the victory over Bridget Wilkie of Toronto, Ontario . These girls battled across the greens of Greenhills to make it a very entertaining round to watch.
Boys 8 & Under
Finn Foster of Brantford, Ontario and Cheho An of North York, Ontario came down to the last 3 holes. An lead the field by 1 stroke through 5 holes, but young Finn Foster was going to let that stop him. With only 3 holes left to take the victory Finn foster came from behind and out shot An by a total of 4 strokes to give him his first CJGA win of the season.
Boys 9-10
Andre Zhu of Richmond Hill, Ontario played an amazing round of golf this weekend shooting 73(+1) to take his third CJGA title of the season. Zhu has been on fire this season dominating the greens at any course he's played at. Zhu hasn't finished outside of second place this season through 5 tournaments played. This is an astounding accomplishment for Zhu as he is 8 years old playing in the boys 9-10 division.
Girls 10-13
This division came down to the wire, with Elaine Giantsopoulos, Rozlyn Rooke and Alexis McMurray battling it out for first. Rozlyn Rooke had the lead going onto 18, but a hungry McMurray hunting for her first win of the season scored a 6 on 18, which was good enough to take the victory. Alexis McMurray finished out the round with an 84 (+12).
Boys 11-13
Thomas Latter of Mississauga, Ontario earned his first victory of the season. Latter shot an impressive 75 (+3) to beat a strong competitor in Zander Gibson. Latter shot an impressive 1 over par through the front 9 to give him a solid cushion going into the back 9.
Girls 14 & Under
Jasmine Ly of Windsor Ontario earned her first win of the season and in dominating fashion too. Ly shot and 83 in round 1 and improved to 76 in the second round and in harsher conditions. When asked what her strengths of the tournament were Ly said "my approach shots were the strongest part of my game but need to work on my tee shots "
Boys 14 & Under
The boys 14 and under came down to the 18th hole in round 2 of our event this weekend. Beni Long had a 3-stroke lead coming into round 2 over Connor Munro. Munro fought back through round 2, through 17 Munro had a 1 stroke lead. But on 18 Long took advantage of a shot by Munro that ended up in some hazard and Long won the division by a stroke on 18th. Beni finished out the weekend with 175(+31), while Connor finished with 176(+32).
Girls 15-19
It was a big weekend for Isabella Portokalis. She put up steady numbers this weekend to win the tournament at Greenhills for the second year in a row. As well as winning the event, Portokalis has earned herself a spot in this years AJGA/CJGA Junior Championship in August. When asked about the pressure brought from a strong field of competitors Portokalis responded by saying "the competition was good, so I knew I had to bring my "A" game."
Boys 15-19
Two boys earned spots for the AJGA/CJGA Junior Championship in August. David Yoon and Zack Mason both put up solid numbers this weekend. Yoon shot (75,73,148) while Mason shot a (74,76,150). David Yoon had 1 thing in mind when he came into Sundays round and that was to try and keep his scores consistent and try and gain a lead over mason and hold that lead through round 2.
Canadian Junior Golf Association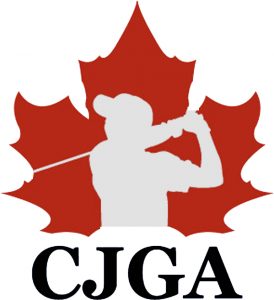 The Canadian Junior Golf Association (CJGA) is a "registered Canadian amateur athletic association" (RCAAA) not-for-profit registered federally with Revenue Canada. The CJGA is dedicated to providing Canada's junior golfers with the necessary skills and knowledge required to lay a foundation for a future in competitive golf.
Through its six-stage competitive development program that focuses on tournaments, clinics, international competitions, and mentoring programs with PGA Tour professionals, the CJGA introduces the game to juniors as young as five and offers competitive multi-day events for the more advanced golfer. The CJGA acts as a feeder system to provincial and national competitions, collegiate and university golf, as well as professional and recreational golf. For more information please visit www.cjga.com.
The Canadian Junior Golf Association is generously supported by its National Partner, Freedom 55 Financial, which provides financial security advice and planning for Canadians.
For Additional Information:
Nate Benton
Tournament Operations Assistant
Canadian Junior Golf Association (CJGA)
Phone: 1-877-508-1069 x223
Fax: 1-905-731-6058
Email: nate.benton@cjga.com
Facebook: www.facebook.com/cjga.ca