Juniors Enjoy Perfect Weather Conditions at Bethesda Grange
Richmond Hill, ON (June 20, 2015) CJGA Juniors took on Bethesda Grange Golf Course on Saturday in a one-day Junior Tour event. With course and weather conditions at a premium, juniors were able to take advantage and post some great rounds of golf. Matthew Medhurst, Wesley Gill, Kelsey Fuchs, and Emily Zhu captured victories in their respective divisions with their play at Bethesda Grange.
Boys 15-19
Matthew Medhurst of Caledon, ON fired a great round of 71 (-1) to take the Boys 15-19 division in dominating fashion. Matthew recorded five birdies on the day, including two on the course's four par 3's. Everything seemed to click for Medhurst as he captured his first career CJGA win. "My short game was great today, and it really saved me. As I calmed down on the back nine, my driver started to get hot and helped me finish strong," said an elated Matthew post-round on Saturday. The highlight of the day came on hole number nine, as Medhurst hit his approach on the par-4 to a mere foot, for an easy tap-in birdie. Matthew then went on to record a back-nine score of 34 (-2) to capture victory.
Stephen Ryan of Palgrave, ON finished runner-up to Medhurst in the Boys 15-19 division, shooting a round of 36-39 for a total of 75 (+3) to finish four shots back of the lead.
Boys 14 & Under
The Boys 14 and Under division was won by 14 year-old Wesley Gill of Rockwood, ON, who fired a round of 77 (+5) to record a six shot victory. Wesley's game plan coming into the round was simple: stay calm and play his game. "I really tried to just be conservative and avoid the big numbers. I knew I had to play safe and take what I could get. I didn't want to try to take myself out of it by making mistakes," said Gill after his first CJGA win. With the win, Wesley earns an exemption into the CJGA Mizuno National Junior Golf Championship on August 10-13, a tournament he is looking forward to this summer.
Following up Gill was Nicholas Calabrese of Maple, ON, who recorded a round of 83 (+11).
Girls 15-19
Kelsey Fuchs (Uxbridge, ON) captured her 2nd win of the CJGA season at Bethesda Grange, shooting a round 39-46, for a total of 85 (+13). Fuchs continued her hot performance this season, after winning at Cherry Downs just under a month prior. With a small division at the event, Kelsey knew what she had to do to get the victory. "I knew it was just her and I this weekend, so it was easy to focus on what I needed to do to win," Fuchs explained after her round. Look for Kelsey to be a threat in her events with the CJGA throughout the rest of the summer.
Sady Beelik of Pefferlaw, ON shot a round of 89 (+17) to finish second place to Fuchs.
Girls 14 and Under
For the third time in this short CJGA season, Emily Zhu (Richmond Hill, ON) was able to come out on top of the Girls 14 and Under division. Emily led the way with the younger girls, shooting a round of 84 (+12) to win her second straight event. The round was off to a slow start for Zhu, who failed to make a par until the 7th hole. But Emily was able to turn around her trend, making two birdies on the back nine, including a great birdie on the tough par-4 18th. With another win, Zhu holds her spot in the top-10 of the CJGA Order of Merit and will look to continue her success as the summer begins.
Second-place in the Girls 14 and Under division went to Raesa Sheikh of Markham, ON with a consistent round of 45-45, for a total of 90 (+18).
The next stop on the CJGA Junior Tour comes at Eagle Ridge Golf Club in Georgetown, ON for the CJGA Eastern Canadian Junior Championship on July 2-4.
About Canadian Junior Golf Association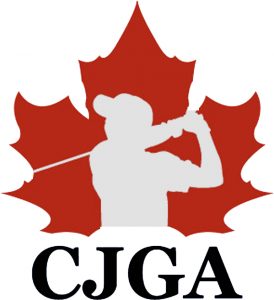 The Canadian Junior Golf Association (CJGA) is a "registered Canadian amateur athletic association" (RCAAA) not-for-profit registered federally with Revenue Canada. The CJGA is dedicated to providing Canada's junior golfers with the necessary skills and knowledge required to lay a foundation for a future in competitive golf.
Through its six-stage competitive development program that focuses on tournaments, clinics, international competitions, and mentoring programs with PGA Tour professionals, the CJGA introduces the game to juniors as young as five and offers competitive multi-day events for the more advanced golfer. The CJGA acts as a feeder system to provincial and national competitions, collegiate and university golf, as well as professional and recreational golf. For more information please visit www.cjga.com.
The Canadian Junior Golf Association is generously supported by its National Partner, Freedom 55 Financial, which provides financial security advice and planning for Canadians.
For Additional Information:
Lucas Friesen
Tournament Operations Assistant
Canadian Junior Golf Association
1.877.508.1069 x.235
lucas.friesen@cjga.com