Juniors Battle rain in the Final CJGA BC Junior Tour Event
Mission, BC (November 7-8, 2015) – Rain greeted junior golfers this past weekend as the CJGA conducted its final Junior Tour event of the season at Mission Golf & Country Club in Mission. The tournament was ultimately reduced to 27 holes on the weekend as juniors were unable to finish the first round.
Boys 15-19
Coquitlam, BC golfer A.J. Ewart, 16, closed with a second round score of 68 after opening with a rain-shortened score of 38. He finished with a total score of 102 a -2 for the weekend. A.J had one birdie during the first round to go along with his 5 pars on the rain filled round. When asked about the weather conditions this is what Ewart had to say, "It rained so hard on Saturday I don't think anyone thought we would play on Sunday," explained Ewart. "The course dried out and conditions were pretty good. I just played steady and took advantage of the par fives." On the final day of the tournament he shot five birdies including one on the very last hole of the day so secure he got the top spot, he also had six pars on his final round. Surrey golfer Tanvir Khalon, 37-71-108, and Victoria's Cam Bourque, 39-69-108 finished two strokes back of Ewart and tied for second place.
Girls 15-19
Surrey, BC golfer Susan Xiao 14, shot a 36 on Saturday and a final round of 76 on Sunday giving her a total of 115, +4 to claim the top spot. On the rainy filled round she shot one birdie to go alone with her five pars on the 9-hole round. On round 2 she shot three birdies to go along with her eleven pars on the road to the top spot. Sarah Lawrence from Duvall, Wa finished second after carding scores of 39-78-117. This is what Xiao had to say about her experience, "It was a lot of pressure," explained Xiao of her final round. "Sarah started with a par and I had a bogey. I was behind right from the start and had to get it back."
Boys 14 Under
Abbortsford, BC golfer Paul Kim 14, scored an opening round 40 on a rainy day while he finished the second round shooting a 84 giving him a total 124, +16 to claim top spot. He finished the 27-hole tournament with one birdie and ten pars. Coming in second place was Vancouver golfer Song Bai who shot 43-87-130.
About the Canadian Junior Golf Association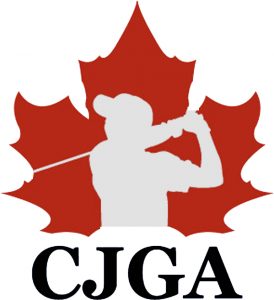 CJGA-logo-Transparent-with-white-player-2aThe Canadian Junior Golf Association (CJGA) is a "registered Canadian amateur athletic association" (RCAAA) not-for-profit registered federally with Revenue Canada. The CJGA is dedicated to providing Canada's junior golfers with the necessary skills and knowledge required to lay a foundation for a future in competitive golf.
Through its six-stage competitive development program that focuses on tournaments, clinics, international competitions, and mentoring programs with PGA Tour professionals, the CJGA introduces the game to juniors as young as five and offers competitive multi-day events for the more advanced golfer. The CJGA acts as a feeder system to provincial and national competitions, collegiate and university golf, as well as professional and recreational golf. For more information, please visit cjga.com.
The Canadian Junior Golf Association is generously supported by its National Partner, Freedom 55 Financial, which provides financial security advice and planning for Canadians.
For Additional Information
Brad Ewart
BC Tournament Director
Canadian Junior Golf Association
Brad.ewart@cjga.com