Juniors Battle Cold Wet Conditions at the CJGA Pre Season Opener at Burnaby Mountain
Burnaby, B.C. (Feburary 25, 2016) – Wind, rain, mixed with the occasional sunny period, greeted juniors this past weekend at the CJGA Pre Season Opener at Burnaby Mountain Golf Course in Burnaby BC. A hearty field of junior golfers from the lower mainland shook off the rust for the first CJGA Junior Tour event of the season.
Bantam Boys (U15)
Burnaby Mountain GC has been Andy Luo's home course since he first started playing golf four years ago. Luo used his local knowledge to his advantage when he beat another Burnaby golfer, Leo Harper, on the first extra playoff hole. The sun had set and the bantam golfers played the extra almost in near darkness.
"It was really tough," explained Luo, 13. "It was really close all day. Brycen (Ko) almost made his birdie putt on the last hole and he would have been tied with us. I am now 2-0 in playoffs and that's the second time I have beat Leo. That was my first CJGA tournament and my first win. It feels pretty good."
Luo carded rounds of 79-78-157 while Harper responded with scores of 80-77-157 to finish in a tie and forced the playoff. Richmond golfer Ko carded rounds of 77-81-158 to claim third place on the par 72, 5,830 yard Burnaby Mountain GC.
Bantam Girls (U15)
West Vancouver's Jennifer Gu added another CJGA title to her competitive record winning the Bantam Girls (U15) division with rounds of 85-92-177. Gu edged Burnaby golfer Emily Xu by two strokes. Xu recorded weekend scores of 92-87-179. Abbotsford golfer Rachel Chung was alone in third place shooting 98-89-187.
Junior Boys (U19)
Langley golfer Willis Lee was the first round leader in the Boys (U19) with a well-played even-par score of 71. Willis finished the front nine in 37 strokes then made things happen on the back nine of the 6,431 yard layout.
"I had back-to-back birdies. Then a bogey. Then back-to-back birdies again then finished par birdie. That was nice," explained Lee who took advantage of no snow this past winter in the Lower Mainland and has played and practiced keeping his game sharp.
Willis was not able to match his first round performance and with the final round weather a combination of wind. rain and occasional sunny periods he stumbled in with a score of 79. "I almost blew it. Bogey-bogey finish with a three-putt on 18. That was too close."
Vancouver's Mathew Kettleson was consisted with rounds of 75-75-150 to claim second place while Calgary, AB's Andrew Widjaja was alone in third place shooting identical rounds of 79 for a 158 total.
Junior Girls (U19)
Vivian Lee, 17, a member of the Hong Kong Amateur Team, has made New Westminster, B.C her home for the past two years and is a frequent player on the CJGA Junior Tour. Lee carded rounds of 79-79-158 to win the Junior Girls (U19) division while Vancouver's Victoria Liu, 13, claimed second place shooting scores of 83-82-165.
"So bad. Oh my God. Cold and wet," said Lee who claimed her third CJGA title. "The greens were soft. A little wet and slow. It was fun."
Juvenile Boys (U17)
Andrew Spalti, 15, from Vancouver won the Juvenile Boys (U17) title carding rounds of 72-75-147. Surrey's Tanvir Kahlon was second shooting scores of 78-75-153. Fort Langley golfer Jackson Jacob opened with round of 74 then stumbled on the second day shooting 81 and a 155 total.
"It was a struggle but then I guess it wasn't too bad," explained Spalti, 2014 B.C. Bantam champion. "You just have to get used to keeping yourself dry and your grips dry. Sometimes we have to play in the rain. So just get used to it."
Spalti, grade 10 student at West Point Grey Academy, felt the work he has put in on his his putting and drlving over the winter is beginning to pay off. "My putting was good and I was hitting my tee shots in the fairway. Of course my irons were off a bit but I felt good about my game. The work is paying off."
Juvenile Girls (U17)
Surrey golfer Kate Choi won her first CJGA title shooting identical scores of 81-81-162 to win the Juvenile Girls (U17) title. Vancouver's Sofia Young finished second with scores of 83-81-164. Leah John from Vancouver was alone in third place shooting 87-80-167.
"The front nine it was cold. It was windy and wet and then the sun came out on the back nine," said Choi was has worked on her game right through the winter to prepare for this season. "Almost every day I try to get out and play or practice. I want to get better."
About Canadian Junior Golf Association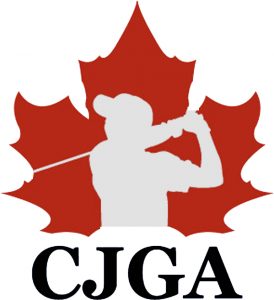 The Canadian Junior Golf Association (CJGA) is a "registered Canadian amateur athletic association" (RCAAA) not-for-profit registered federally with Revenue Canada. The CJGA is dedicated to providing Canada's junior golfers with the necessary skills and knowledge required to lay a foundation for a future in competitive golf.
Through its six-stage competitive development program that focuses on tournaments, clinics, international competitions, and mentoring programs with PGA Tour professionals, the CJGA introduces the game to juniors as young as five and offers competitive multi-day events for the more advanced golfer. The CJGA acts as a feeder system to provincial and national competitions, collegiate and university golf, as well as professional and recreational golf. For more information, please visit www.cjga.com
The Canadian Junior Golf Association is generously supported by its National Partner, Freedom 55 Financial, which provides financial security advice and planning for Canadians.
For Additional Information:
Brad Ewart
BC Tournament Director
Canadian Junior Golf Association
brad.ewart@cjga.com