CJGA Team Canada in Tough Heading into the Final Round of the 2016 North America Cup
– Alternate shot proved to be a tough test for the team –
Bluffton, South Carolina (July 5, 2016) – CJGA Team Canada trails 7.5 to 2.5 heading into Round three of the 2016 North America Cup at Oldfield Golf Club. The second round featured alternate shot matches, which involves partners alternating between shots while playing the same ball. The soaring temperature and hot American team wore the team down, leading to a 4 to 1 American win during Round 2.
The final round of the tournament features singles match play, which pits two opponents against each other playing their own ball. With ten points on the line, the trophy is up for grabs to the team that comes out and leaves it all on the course.
Girls Under 19
Lucy Liu and Esther Subin Lee, the BC duo, were matched up again with Sophia Burnett and Sarah Perine. Lee and Liu jumped out to an early lead, up 1 through 5 holes. The Americans kept working away at the lead, eventually handing the Canadians a 3 and 2 loss.
Boys Under 15
Vick Gu and Mathias Krauss were up against a different pair for day two, which consisted of Patrick Sheehan and Mikee Ordona. The pair faced a tough test with the American team hitting the fairway the majority of the time with the long ball. Gu and Krauss fell to an early deficit and were not able to climb back, losing the match 4 and 3.
Boys Under 19
The highlight of the round came from the play of Mitchell Thiessen and Michael Ikejiani. The dynamic duo were no match for the American team of Deion Shepherd and Sean Stanistreet. Thiessen and Ikejiani never trailed during the match leading to a solid 2 up win.
Taylor Beckstead and Braydon White were in tough against an American team featuring a hot Cole Burger and Trevor Hogan. The two Barrie-area boys jumped to an early lead, up 2 after six holes. A late American push by Hogan and Burger led to a 4 and 3 loss for the Canadians.
The last pairing featured a hot pair of Team Captain Vincent Brunet and Shayne Simpson. The two were unable to continue yesterday's strong play against an American team featuring team captain Reid Bedell. Brunet and Simpson fell 4 and 2 despite a late push by the two.
The Final Round of singles match play pairings are as follows:
Vincent Brunet (Ottawa, ON) vs. Cole Burger (Malvern, PA)
Braydon White (Barrie, ON) vs. Trevor Hogan (Auburn, NY)
Taylor Beckstead (Alliston, ON) vs. Patrick Sheehan (Doylestown, PA)
Mitchell Thiessen (Chilliwack, BC) vs. Reid Bedell (Fair Haven, NJ)
Michael Ikejiani (Minesing, ON) vs. Sean Stanistreet (Camillus, NY)
Shayne Simpson (Belleville, ON) vs. RJ Wren (Morgantown, PA)
Mathias Krauss (Ancaster, ON) vs. Chase Phillips (Hilton Head, SC)
Vick Gu (Markham, ON) vs. Mikee Ordona (Upland, CA)
Esther Subin Lee (Maple Ridge, BC) vs. Sarah Perine (Staten Island, NY)
Lucy Liu (Vancouver, BC) vs. Sophia Burnett (Bluffton, SC)
-30-
About Canadian Junior Golf Association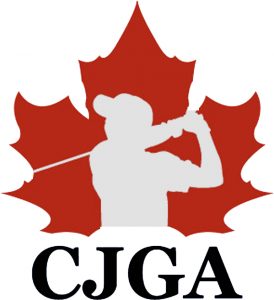 The Canadian Junior Golf Association (CJGA) is a "registered Canadian amateur athletic association" (RCAAA) not-for-profit registered federally with Revenue Canada. The CJGA is dedicated to providing Canada's junior golfers with the necessary skills and knowledge required to lay a foundation for a future in competitive golf.
Through its six-stage competitive development program that focuses on tournaments, clinics, international competitions, and mentoring programs with PGA Tour professionals, the CJGA introduces the game to juniors as young as five and offers competitive multi-day events for the more advanced golfer. The CJGA acts as a feeder system to provincial and national competitions, collegiate and university golf, as well as professional and recreational golf.
For more information, please visit www.cjga.com
Its National Partner, Freedom 55 Financial, which provides financial security advice and planning for Canadians, generously supports the Canadian Junior Golf Association.
For Additional Information:
Glen Hall
Manager, Tournament Operations
1.877.508.1069
jordyn.battista@cjga.com