CJGA Junior Tour Ends in Exciting Playoff at Emerald Hills
Whitchurch-Stouffville, Ont. (July 20, 2016) – Earlier this week, Emerald Hills Golf Club hosted the Canadian Junior Golf Association Junior Tour, in Stouffville, Ont. This two-day event provided a challenge for junior golfers as they battled against the elements and each other. As day two was drawing to a close and all divisions had finished their rounds, a playoff was called to determine the winner of the Bantam Girls Division (U15). The playoff occurred between Victoria Zheng and Madelin Boyd. Boyd gave it her best effort, but Zheng managed to make par and ultimately claim the win.
CLICK HERE FOR FULL RESULTS
CLICK HERE TO VIEW PHOTOS
Junior Boys Division (U19)
Keaton Veillette, 17, from Toronto, Ont., ended the two-day tournament with a total of five birdies and a six stroke lead in the Junior Boys division. Veillette posted rounds of 77 (+6), 79 (+8), to finish with a total of 156. Despite the windy conditions, Veillette was able to take home the win, as a result of a strong short game performance.
"The conditions were a little tough and the front nine was tight, but my putting and wedge game around the greens was really strong", says Veillette. This will be the third CJGA win in Veillette's career.
Frank Kelly, 17, from Toronto Ont., finished the event in the runner-up position, posting rounds of 87, 75 for a total of 162.
Junior Girls Division (U19)
Ending the first round with a strong lead, Hailey McLaughlin, 14, from Markham, Ont., successfully concluded the event in first place for the Junior Girls division.
McLaughlin explains how she overcame her tee shot and putting struggles during the first day of competition saying, "On round two, I stepped up with my approach shots and putting, tweaking things I knew would work for me." McLaughlin posted scores of 91, 79 for a total of 170.
Stephanie Chiarotto, 18, from Bolton, Ont., gave a solid performance to land her the second place position, posting rounds of 100, 108, for a total of 208.
Bantam Boys (U15) 
Troy Tsai, 12, from Richmond Hill, Ont., gave an incredible performance throughout the competition, ending the final round with two consecutive birdies. Tsai played two great rounds and explains in his own words where he excelled, "My strengths during competition came through with my drives off the tee. The ball remained on the fairway 99% of the time."
Tsai's ability to keep his ball in play at all times paid off. Tsai posted 74 (+3) during both rounds for a total of 148 (+6) and earned himself first place in the Bantam Boys division.
It was a tight competition in the Bantam Boys division. Luca Ferrara, 14, from Toronto Ont., finished the event just one stroke behind the leader. Ferrara posted rounds of 74 (+3), 75 (+4) for a total of 149 and second place.
Bantam Girls (U15) 
After tying her competitor for first place, Victoria Zheng, 12, from Markham, Ont., took home the win after it was determined in a playoff on hole 18. When asked about her thoughts going into the playoff, Zheng said, "I wasn't nervous, I just told myself to focus, make par and see what happens."
Zheng carried this confidence with her during both rounds of competition. She posted scores of 89, 74 (+3), for a total of 163 and the winning title in the Bantam Girls division.
Madelin Boyd, 12, from Oshawa, Ont., proved herself to be a tough competitor, coming in just short of the title. Boyd played two consistent rounds, posting scores of 81, 82, for a total of 163 and a well deserved finish in second place.
Juvenile Boys (U17) 
Taking the lead position in the Juvenile Boys division was Eric Byun, 15, from Richmond Hill, Ont. It was all about saving pars and making birdies for the young competitor, "I performed pretty well today and had strong tee shots," explained Byun.  Despite the tough playing conditions during both rounds of competition, Byun posted impressive rounds of 73 (+2), 72 (+1), for a total of 145 and the win.
Jack Sue, 15, from Richmond Hill, Ont., was awarded the second place position, posting rounds of 84, 76 (+5) for a total of 160.
Juvenile Girls (U17) 
Kiley Rodrigues, 16, from Kingston, Ont., earned herself first place in the Juvenile Girls division. Rodrigues relied upon both her playing ability and poise to remain in the lead.
"I told myself to be calm and continue to play as I did the first round", explains Rodrigues. Evidently, it is this calm demeanor that allowed her to remain three strokes ahead of her competitor, posting rounds of 81, 91, for a total of 172 and the win.
Just three strokes behind the leader was Kacey Walker, 16, from Mississauga, Ont. Walker gave a consistent performance, posting scores of 88, 87 for a total of 175 and second place.
-30-
About Canadian Junior Golf Association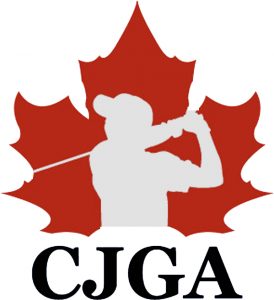 The Canadian Junior Golf Association (CJGA) is a "registered Canadian amateur athletic association" (RCAAA) not-for-profit registered federally with Revenue Canada. The CJGA is dedicated to providing Canada's junior golfers with the necessary skills and knowledge required to lay a foundation for a future in competitive golf.
Through its six-stage competitive development program that focuses on tournaments, clinics, international competitions, and mentoring programs with PGA Tour professionals, the CJGA introduces the game to juniors as young as five and offers competitive multi-day events for the more advanced golfer. The CJGA acts as a feeder system to provincial and national competitions, collegiate and university golf, as well as professional and recreational golf.
For more information, please visit www.cjga.com
Its National Partner, Freedom 55 Financial, which provides financial security advice and planning for Canadians, generously supports the Canadian Junior Golf Association.
For Additional Information:
Melissa Foong
CJGA Communications Assistant
1.877.508.1069
melissa.foong@cjga.com