CJGA Director, Danny King wins second major event in last two weeks, the PGA Championship of Ontario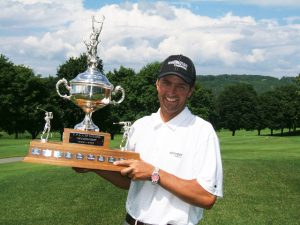 After winning the PGA Championship of Canada, Danny King, CJGA Director, won his second major event this week, the PGA of Ontario Championship.
The PGA of Ontario Championship is longest running tournament in the history of the Ontario PGA.
First contested in 1939, the PGA of Ontario Championship is synonymous with some of Canada's most accomplished club and touring professionals.
Those names include Moe Norman, George Knudson and Al Balding.
Danny King is the second four-time PGA of Ontario Champion in the association's history and the first since 1982.
The CJGA would like to congratulate Danny on his accomplishments.