Richmond Hill, ON (May 24, 2015)- For a second straight day junior golfers began the day with sunshine at Cabot Links but were also met with high winds which caused trouble for players. Myles Creighton did not let these conditions bother him on his way to his to earning a spot in the Cape Breton Celtic Classic.
The Digby, NS native shot a final round 76 to win the Boys 15-19 division. Creighton sealed the deal on the 18th hole by draining a 25-foot birdie right in the middle of the cup. Starting the day with a three shot lead, Myles round of 6 over-par was good enough for a five shot win. Bobby
Dunphy of Antigonish, NS who started the day in second place maintained his position, but was unable to put pressure on Creighton after an opening 9 of 41. Dunphy made a late round push with three straight birdies on holes 13 through 15, but it was not enough to catch Creighton.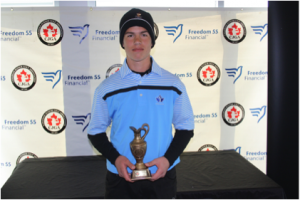 Overnight leader John Mosher of Halifax, NS made a clutch par on the 18th hole today to seal victory in the Boys 14 & Under division. Going into 18, Mosher had seen his first round lead of 4 shots disappear to Chris Consmueller of Bedford, NS, but a par on the difficult 18th was good enough to seal victory. Mosher's two-day total of 164 was good enough for a two stroke victory.
In the Girls 15-19 division Allison Chandler of Chester, NS maintained her first round lead of 4 shots throughout the day. A two-day total of 167 was good enough for a four stroke victory over Elizabeth Furniss of Berwick, NS. Furniss put pressure on Chandler by shrinking her lead down to one stroke after the first four holes, but a strong back 9 helped Chandler seal victory.
In the Girls 14 & Under division Heather McLean of Port Williams, NS improved upon her opening round lead of 4 shots to end with a 7 stroke victory. A two-day total of 192 was good enough to defeat runner up Haley Baker of Brookside, NS.
Atlantic players will look to improve upon their play this weekend when the CJGA comes to Pugwash, NS next week for the Nike Golf Junior Series at Northumberland.
Tournament Results: CJGA Cabot Links Junior Open
About the Cape Breton Celtic Classic
The 2015 Cape Breton Celtic Classic presented by PC Financial will take place from September 7th to September 13th at the Lakes Golf Club in Sydney, Nova Scotia. This event will be an unmatched experience, with the world's top up and coming golf professionals converging on Cape Breton for the week. As one of the most anticipated tournaments of the year on PGA TOUR Canada, this will be a memorable week of golf, celebration and fun.
Canadian Junior Golf Association
The Canadian Junior Golf Association (CJGA) is a "registered Canadian amateur athletic association" (RCAAA) not-for-profit registered federally with Revenue Canada. The CJGA is dedicated to providing Canada's junior golfers with the necessary skills and knowledge required to lay a foundation for a future in competitive golf.
Through its six-stage competitive development program that focuses on tournaments, clinics, international competitions, and mentoring programs with PGA Tour professionals, the CJGA introduces the game to juniors as young as five and offers competitive multi-day events for the more advanced golfer. The CJGA acts as a feeder system to provincial and national competitions, collegiate and university golf, as well as professional and recreational golf. For more information please visit www.cjga.com.
The Canadian Junior Golf Association is generously supported by its National Partner, Freedom 55 Financial, which provides financial security advice and planning for Canadians.
For Additional Information:
Brian Newton
Tournament Operations Assistant
Canadian Junior Golf Association (CJGA)
brian.newton@cjga.com