-CJGA's Gavey Captures Medalist Honours in Playoff; Naumovski wins Ladies Title –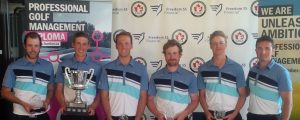 Final Results
Milton, Ont. (May 6, 2015) – With clear skies and warm temperatures, the final round of the Humber PGA Invitational concluded today at ClubLink's Greystone Golf Club in Milton. Host Humber College Hawks entered the final round with a one-stroke lead which turned out to be the difference as the Hawks repeated as Men's Champions. Humber finished the event with a 611 team total.
Led by Barrett McCarthy in the final round, the defending champs held their ground in today's final round to finish a single stroke ahead of University of Toronto. McCarthy, a CJGA alum, shot a final round 73 (+1), the lowest team score of the day. Scott Benzoni shot a final round 76 (+4) and Will Gavarkovs shot a final round 81 (+9). Mike Crapper and Cole Kent both shot finals rounds of 82 (+10) to round out the Humber team scoring.
McCarthy entered the event after achieving personal success in mid-April. Participating in the Red Flash Invitational, hosted by Saint Francis University, McCarthy was the first Humber player to capture medalist honours in an NCAA event.
The Varsity Blues put forth a strong effort but just could not find that one stroke to match the Humber team. Marcus Lam led the Varsity Blues team in the final round shooting a round of 75 (+3).   Gordie Gibson shot a round off 77 (+5) while Philip Arci (78) and Truman Tai (82) rounded out the schools team scoring.
Team CJGA finished in third place and Glen Abbey Juniors finished in fourth. Both Humber and University of Toronto will compete in the Canadian University/College Championships May 26-29 at Cutten Fields in Guelph, Ontario.
CJGA's Aiden Gavey captured Men's medalist honours with a birdie on the first playoff hole for his first victory of the season. The 15 year old Caledonia resident shot two rounds of 73 (+1), a 146 two-day total. First leader Matthew Vihant closed with a 77 (+5), punching his ticket in the playoff. Unfortunately, it was not to be for the talented 17 year old Vihant as Gavey made his birdie putt to capture the title.
On the ladies side, CJGA member Alexandra Naumovski captured medalist honours to make it a clean sweep for CJGA juniors, shooting a final round 76 (+4), winning the event by nine strokes. University of Waterloo member Stefanie Bothwell shot a final round 86 (+12) to finish runner-up in the Ladies' competition. Humber College's Adrienne D'Alessio and University of Toronto team member Rylie Wilson finished in a tie for third.
Now in its 14th year, the Professional Golf Management program at Humber College in partnership with the Canadian Junior Golf Association (CJGA) bring together some up and coming junior golfers competing in a competition with some Canadian college and university teams. The event allows juniors to play alongside student-athletes at the next level and benchmark their game to those playing post-secondary golf in Canada.
Tournament Information: Humber College PGM Invitational
About Humber College – Professional Golf Management Program
The Professional Golf Management (PGM) diploma program at Humber College is recognized as Canada's premiere golf business program and we are partnered with the best facilities for you to gain work experience.
Our program will help you develop a solid understanding about the game of golf as well as essential knowledge of the business of golf. You will learn an array of critical business skills that will help you succeed in your career and you will learn these skills from the best teachers in the business. Our faculty include six PGA of Canada Class "A" members who will not only teach you the essentials of golf but they will connect you with an important network of golf industry professionals.
If competitive golf is your passion, you will have the opportunity to be part of the best Varsity golf team in Canada. The Humber Hawks have won 10 of the past 13 Canadian Collegiate Athletic Association (CCAA) championships. This past year we set the all-time record for most consecutive championships (over all sports) for the Ontario Colleges Athletic Association (OCAA) with 9! We have 12 student athletes who have competed in world championships and several that play on professional tours.
Regardless of your level of golf ability, we will help you lower your handicap and improve your golf skills. We have developed an extensive Player Development Program that includes:
• Weekly lessons from PGA of Canada golf professionals
Use of our state-of-the-art on-campus Golf Lab facility that is equipped with the best performance development technology available including:
o TrackMan launch monitor
o K-Vest 3D swing analysis
o GASP video swing analysis
o TOMI putting system
• Playing privileges at a local golf club during the fall semester
• Use of an indoor golf dome facility during the winter semesterSome of the other components of our program that will benefit you include:
• Two paid internships
• Condensed school year tailor to the golfing season
• Meets the formal education requirements for the PGA of Canada
• New 3 level fitness center
• Scholarships, Bursaries, Awards
• Pathway to 10 of Humber's Bachelor of Commerce Degree programs
• An international network of over 600 graduates who hold positions in the golf business across Canada, the United States and Europe.

You can find more detailed information about the Humber PGM program on our website at:
https://business.humber.ca/golf

To sign up for our program please visit the Ontario Colleges website at:
https://www.ontariocolleges.ca/ProgramDetail/_/N-1z1417qZ1z13qpv

If you would like more information, have any questions or would like to talk about the program, please give Andrew a call at 416-675-6622 ext. 3220 or send an email at andrew.vento@humber.ca.
Canadian Junior Golf Association
The Canadian Junior Golf Association (CJGA) is a "registered Canadian amateur athletic association" (RCAAA) not-for-profit registered federally with Revenue Canada. The CJGA is dedicated to providing Canada's junior golfers with the necessary skills and knowledge required to lay a foundation for a future in competitive golf.
Through its six-stage competitive development program that focuses on tournaments, clinics, international competitions, and mentoring programs with PGA Tour professionals, the CJGA introduces the game to juniors as young as five and offers competitive multi-day events for the more advanced golfer. The CJGA acts as a feeder system to provincial and national competitions, collegiate and university golf, as well as professional and recreational golf. For more information please visit www.cjga.com.
The Canadian Junior Golf Association is generously supported by its National Partner, Freedom 55 Financial, which provides financial security advice and planning for Canadians.
For Additional Information:
Brad Parkins
Chief Operations Officer
Canadian Junior Golf Association
1.877.508.1069 x221
brad.parkins@cjga.com