-Four International Junior Master Exemptions Also Awarded-
Richmond Hill, ON (April 27, 2015) The second of eight national Nike Golf Junior Series events concluded this past weekend at the Nike Golf Junior Series at Caledon Woods Golf Club in Bolton, Ontario. Despite the biting cold winds Matthew Vihant, Eli Mathew and Sarah Beqaj all earned exemptions into the Nike Golf Junior Championship to be conducted early September in Ontario.
Girls 14 & Under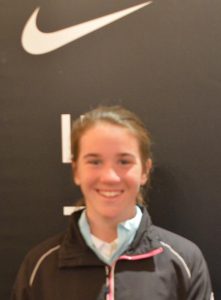 Sarah Begaj of Toronto followed up her second place finish from last week's season opener to claim her first Girls 14 & Under title of the season. Feeling under the weather Begaj fought through the wind and cool temperatures to go wire to wire with scores of 80 & 88 for a tournament total of 168. "I was driving the ball really well, an accurate this weekend" said Begaj. Despite her ball landing in 12 divots on the day Begaj did have some highlights including a near ace on hole 12.
Competing in her third event of the season Brampton golfer Vaijayanti Bharkhada finished in the runner up position with scores of 92 & 95 (187).
Boys 14 & Under
Seven year CJGA veteran, Eli Mathew of Waterloo claimed his first Boys 14 & Under title on this early season with scores of 79 & 77 (156). "It felt great to win today. Anytime you can come from behind to win is always nice" said an elated Mathew in the clubhouse. Coming into the day Mathew was focused on one thing, shoot the best score. "Being one shot behind all I wanted to do was shoot the best score and see where I ended up."
Along with the other divisional champions Mathew has now earned an exemption to participate in the Nike Golf Junior Championship to be held later in the summer in Southern Ontario.
Competing in his first CJGA Junior Tour event, 11 year old Peter Blazevic of Burlington turned some heads Sunday shooting the third best score on the day 75 (+5) to finish in the runner up position.
First round leader Robbie Latter of Mississauga finished third after posting a final round score of 85 for a tournament total of 165.
Boys 15-19
Defending PING Canadian Junior Match Play champion, Matthew Vihant of Toronto impressed the crowd on hand with scores of 69 & 74 (143) to capture the divisional title. "I felt good coming into this weekend. It's nice to see all the practice in the off season paid off" said Vihant. "I made a lot of long putts early in the back nine today giving me some confidence coming down the stretch".
Last week's winner Zack Mason of Toronto, ON shot the low score on the day 68 (-3) to finish in the runner up position. Nicklaus Naumovski of Halton Hills, ON finished third with scores of 74 & 76 (150).
The top four boys in the 15-19 division also earned exemptions into the International Junior Masters to be held in late June in New York State.
The CJGA Junior Tour will now head to Stouffville for the CJGA Ontario Junior Series at Emerald Hills Golf Club on May 3rd.
About Nike Golf Canada
Based in Thornhill, Ontario, Nike Golf Canada markets, sells and distributes industry leading Nike Golf equipment, apparel, balls, footwear, bags and accessories throughout Canada. Nike Golf is passionately dedicated to honoring and respecting the traditions and heritage of the game, and to providing committed golfers with the best equipment in the game. For more information on Nike Golf Canada, visit www.nikegolf.ca.
To follow Nike Golf on Twitter visit www.twitter.com/nikegolf and to become a fan on Facebook go to www.facebook.com/nikegolf. Journalists seeking editorial information and images, visit www.nikegolf.com/presscenter.
About Canadian Junior Golf Association
The Canadian Junior Golf Association (CJGA) is a "registered Canadian amateur athletic association" (RCAAA) not-for-profit registered federally with Revenue Canada. The CJGA is dedicated to providing Canada's junior golfers with the necessary skills and knowledge required to lay a foundation for a future in competitive golf.
Through its six-stage competitive development program that focuses on tournaments, clinics, international competitions, and mentoring programs with PGA Tour professionals, the CJGA introduces the game to juniors as young as five and offers competitive multi-day events for the more advanced golfer. The CJGA acts as a feeder system to provincial and national competitions, collegiate and university golf, as well as professional and recreational golf. For more information please visit www.cjga.com.
The Canadian Junior Golf Association is generously supported by its National Partner, Freedom 55 Financial, which provides financial security advice and planning for Canadians.
For Additional Information:
John Lawrence
Managing Director, Tour Operations
Canadian Junior Golf Association
1.877.508.1069 x227
John.lawrence@cjga.com