-Kang shoots second round 65 to run away with Boys Title-
Click Here for Full Tournament Results
Surrey, B.C. (March 10, 2015) Northview Golf & Country Club played host to a full field of junior golfers March 7-9 as the Canadian Junior Golf Association (CJGA) conducted their Western Canadian Junior Championship on the Canal and Ridge courses. Players were treated to favorable weather conditions over the three days of tournament play, resulting in some remarkable scores early in the season.
Girls 14 & Under
Victoria Liu, 12, of Vancouver took home top spot in the Girls 14 & under division shooting an impressive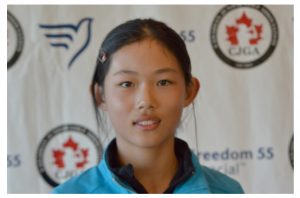 six over-par tournament total. After opening with two rounds of 72 (E) on the Canal course, the Ridge course proved a little more challenging for Liu as she closed with a round of 78 (+6).
"My putting was very good" said a pleased Liu. "I had 25 putts round one and 26 round two, with my only three-putt coming in today's final round." Sienna Kraus of Maple Ridge, B.C. finished behind Liu.
Boys 14 & Under
Daniel Sun, 14, of Surrey, B.C. was impressive the final two rounds shooting a combined eight under-par
to finish in top spot in his division. Opening with a round of 79 (+7), Sun dominated the Canal course on day two shooting a six under-par 66 and never looked back capturing the title by 12 strokes.
"This is my first CJGA win and it feels really good" Sun stated. "My mental game was really good and I played it shot by shot and never got ahead of myself. I was able to keep it really simple and play my own game, not worrying about what the others were doing."
Henry Lei continued his strong start to the season finishing runner-up to Sun after he captured the CJGA Season Opener. The Surrey resident shot rounds of 76-74-77 (227).
Girls 15-19
Michelle Kim, a member of Golf Canada's Team Canada Development Team captured the Girls title by a single stroke over New Westminster native Vivian Lee. Kim shot a sizzling second round 67 (-5) on the
Canal course to take a four stroke lead into the final round where she closed with a 76 (+4).
"It feels really good to win" said Kim at the end of the tournament. "I tried to stay patient on the course and with vivian playing well, it made me better also. I have been a CJGA member a long time and this is my first CJGA victory, so I am pleased."
Lee played catch up from the beginning, shooting opening rounds of 79-69, two strokes more than Kim each day. A solid final round 73 (+1) left her a stroke off the pace, settling for runner-up.
Boys 15-19
North Vancouver's Roy Kang was the talk of the tournament after scorching the Canal course with rounds of 70 (-2) and 65 (-7) to open the tournament. He closed with a 74 (+2) on the Ridge course en route to an eight stroke margin of victory.
"The course was in great condition for this time of year and really set up nicely for my game" Kang said. "It feels really good to win this event, especially at the beginning of the season and with such a strong field of players. I am looking forward to good results the next couple weeks.
A.J. Ewart got his game going on the final day firing a final round 67 (-5) to jump into a three-way tie for second place alongside Langley's Jae Wook Lee and Victoria's Josh Miller. All three boys finished the event at 217 (+1).
Other Notes:
The CJGA Canadian Western Junior Championship was the first of four events in the province to conduct a team competition within the event.
Four boys teams and three girls teams participated in the inaugural team competition.
The Performance LAB captured the Boys Competition. Taylor Your Game, Zone Golf Academy, and Saunders Rogers Performance Golf Academy finished second thru fourth respectively.
Saunders Rogers Performance Golf Academy captured the Girls Competition. The Performance LAB and Zone Golf Academy finished second and third respectively.
Kikkor was on hand as a sponsor of the Putting Challenge. James Lepp, a former CJGA member; NCAA golf champion; Big Break finalist; and former PGA TOUR Canada professional was on hand supporting the event.
Morgan Creek Golf Club is set to host the Canadian Junior Golf Association in two weeks as a full field of juniors will vie for division title at the first of eight national Nike Golf Junior Series events. Division winners will receive an automatic invitation to the Nike Golf Junior Championship, a winners-only event conducted at the end of the season.
Canadian Junior Golf Association
The Canadian Junior Golf Association (CJGA) is a "registered Canadian amateur athletic association" (RCAAA) not-for-profit registered federally with Revenue Canada. The CJGA is dedicated to providing Canada's junior golfers with the necessary skills and knowledge required to lay a foundation for a future in competitive golf.
Through its six-stage competitive development program that focuses on tournaments, clinics, international competitions, and tea programs with PGA Tour professionals, the CJGA introduces the game to juniors as young as five and offers competitive multi-day events for the more advanced golfer. The CJGA acts as a feeder system to provincial and national competitions, collegiate and university golf, as well as professional and recreational golf. For more information please visit www.cjga.com.
The Canadian Junior Golf Association is generously supported by its National Partner, Freedom 55 Financial, which provides financial security advice and planning for Canadians.
For Additional Information:
Brad Ewart
BC Tournament Director
Canadian Junior Golf Association
brad.ewart@cjga.com