-Kikkor Sponsoring Putting Challenge; Owner Lepp Challenging Junior-
Surrey, B.C. (March 6, 2015) – Northview Golf & Country Club is preparing to welcome a full field of juniors over the next three days as the Canadian Junior Golf Association (CJGA) Western Junior Championship is set to play March 7-9. Juniors from across British Colombia will showcase their skills on both the Ridge and Canal courses in this nationally ranked event.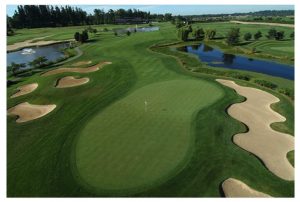 Northview Golf and Country Club is the proud home of the most exciting and challenging golf courses in British Columbia. Designed by the incomparable Arnold Palmer, the two layouts reflect his dashing "go for broke" style tempered by his true respect for the game
The Ridge Course is 6,900 yards of gently rising terrain, meandering streams and deep, cold lakes. Although tough enough for the PGA Tour and rated among the top 14 conditioned tour destinations, the Ridge is a rewarding test for players of all skill levels.
The Canal Course stretches to 7,100 yards of serene golf in the tradition of the old links land. Wide fairways and undulating greens await players who prefer their golf to be challenging, yet undisturbed from the sounds of everyday life.
James Lepp, a former CJGA member; NCAA golf champion; Big Break finalist; and former PGA TOUR Canada professional will be on hand supporting the event. Lepp's company, Kikkor (www.kikkor.com) is corporate sponsor of the event and will host a putting challenge for all tournament participants. Lepp plans on taking it a step further and challenging the winning junior to a putt-off at the end of the event.
The weekend forecast shows favorable weather conditions for the juniors with double digit temperatures currently predicted.
The strong field of juniors competing in the event should provide for some great action of the three days of play. Some juniors to keep an eye on are AJ Ewart (15), Keaton Gudz (15), Henry Lei (14), Perry Xin (15), Euan Han (12) and Victoria Lui (12). Also competing are Alisha Lau and Michelle Kim both members of Golf Canada's Team Canada development squad.
Schedule of Events:
March 7 – First Round – 9:00am – 12:09pm (first tee)
March 8 – Second Round – 9:00am – 12:09pm
March 9 – Final Round – 9:00am – 12:09pm
Awards Ceremony – 5:00pm
Tournament Information: CJGA Western Canadian Junior Championship
Canadian Junior Golf Association
The Canadian Junior Golf Association (CJGA) is a "registered Canadian amateur athletic association" (RCAAA) not-for-profit registered federally with Revenue Canada. The CJGA is dedicated to providing Canada's junior golfers with the necessary skills and knowledge required to lay a foundation for a future in competitive golf.
Through its six-stage competitive development program that focuses on tournaments, clinics, international competitions, and mentoring programs with PGA Tour professionals, the CJGA introduces the game to juniors as young as five and offers competitive multi-day events for the more advanced golfer. The CJGA acts as a feeder system to provincial and national competitions, collegiate and university golf, as well as professional and recreational golf. For more information please visit www.cjga.com.
The Canadian Junior Golf Association is generously supported by its National Partner, Freedom 55 Financial, which provides financial security advice and planning for Canadians.

For Additional Information:
Brad Ewart
BC Tournament Director
Canadian Junior Golf Association
brad.ewart@cjga.com
.aligncenter {
display: block;
margin-left: auto;
margin-right: auto;
}
.alignleft {
float: left;
}
.alignright {
float: right;
}